About us
When you are craving Asian or Thai cuisine, head over to the Twisted Thai for an authentic meal. You can find us at 35 Perry Street, just a short drive from the Orange Grove Market. The Chicken Curry Puffs are great appetizers before a main course of Tom Kha Chicken. You may decide to try a Stir Fried Vegetable with your choice of sauce and meat. We also recommend the Tom Yum Soup or Thai Beef Salad. Take advantage of the dine-in option at our restaurant, or order your favorite meal for takeaway or delivery in Lilyfield.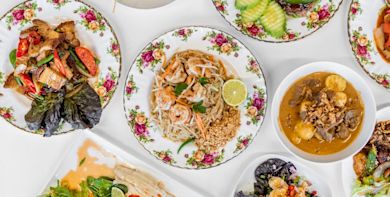 Reviews
69 reviews
Craig
"Beautiful food and excellent service,"
17/03/2020
Emer
"Great food and service. Thanks!"
3/01/2020
Jeffrey
"Best Thai around."
20/12/2019
Georgina
"Best Thai I've had in the area. The pad Thai was amazing. The food cane piping hot still."
16/12/2019
Menu
Satay Chicken (4 Skewers)
Grilled chicken skewers marinated in a light curry and coconut milk served with peanut sauce.
$9.90
Chicken Curry Puffs (4 Pcs)
Chicken, potato and pea wrapped in puff pastry.
$9.90
Fresh Spring Rolls
Chicken satay or tofu, carrot, mint, cucumber.
$9.90
Potato Prawns (4 Pcs)
Prawns wrapped in fresh potato noodle.
$8.90
Soft Shell Crab
Served with salad and special puree sauce.
$11.90
Fried Vegetable Spring Rolls (4 Pcs)
Filled with shredded veggies and glass noodle.
$8.90
Money Bags (4 Pcs)
Mince chicken, water chestnut corn and pea.
$8.90
Fish Cake (4 Pcs)
Thai fish cake blended in a mild curry paste.
$8.90
Samui Chicken
Thai herb style chicken marinate deep fried.
$10.90
Crispy Pork with Chinese Broccoli
$16.90
Red Duck Curry
Roasted duck cook in Thai red curry also lychee, pineapple, cherry tomatoes.
$17.90
Crispy Cashew Nut
Roasted cashew nuts and smoked chili jam stir fried with chicken and veggies served in crispy nest.
$17.90
Crispy Satay Salad
Chicken satay filled in crispy nest served with Thai salad dressing.
$17.90
Crispy Chicken Curry
Crispy noodles served with chicken curry.
$17.90
Yellow Lamb Curry
Grilled lamb with Thai curry cooked in coconut mixed seasonal vegetables, fresh basil.
$20.90
Tom Yum
A hot lime sour soup which made of our special ingredient. Lime, smoke chili jam, lemongrass, and top with kaffir lime leave. Also choice of your meat.
$15.90
Massaman Beef Curry
Special tender beef, slow cooked in coconut milk served with potatoes, carrot, and peanuts, topped with dried onion.
$16.90
Tom Kha Chicken
A coconut milk and sour soup cook with chicken and Thai herb, galangal and lemongrass.
$15.90
Contact us
Find Us
35 Perry Street, Lilyfield, 2040
Opening Hours
Tuesday
4:00 PM - 9:00 PM
Wednesday
11:00 AM - 9:00 PM
Thursday
11:00 AM - 9:00 PM
Friday
11:00 AM - 9:30 PM
Saturday
4:00 PM - 9:30 PM
Please note, delivery times may vary.
We deliver to
2038 Annandale, 2039 Rozelle, 2040 Leichhardt, 2040 Lilyfield, 2041 Balmain